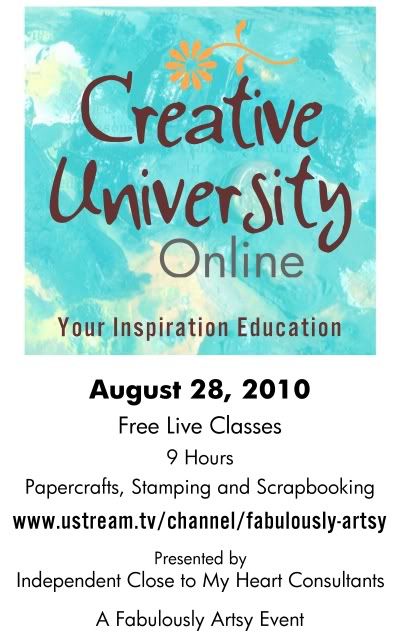 Mark your calendars, it's less than a week away! The first Creative University - ONLINE!
Nine hours of free classes, presented by Close to My Heart consultants to kick off the new Autumn/Winter Idea Book and Catalog. The "Fabulously Artsy" Tresa Black has assembled a top-notch team of co-hosts for this event, with a variety of demonstrations to showcase new products from Close to My Heart.
Classes begin on the hour
You can join in at any time throughout the day. Classes will be continuous for the nine hours, with teachers and projects changing at the beginning of each hour.
The event is on Tresa's Fabulously Artsy ustream channel.
Sign up
(it's free!) to chat live with teachers and other viewers. Ustream account is not necessary to view the classes, but if you'd like to chat, you need to sign up.
Help Promote This Event, Grab a Badge from the Sidebar!